"Just when you think you know love, someone so little and precious comes along to remind you just how big love really is."
Brooklyn's story began with a trip to the beautiful island nation of Jamaica where Nathan and I were scheduled to shoot a destination wedding for two of our lovely clients! It was our first time away overnight from our almost one-year-old Sophia, and the whole trip was a mix of business, water sports, yummy meals, and some time to reconnect as a whole. We hadn't planned on trying for a second child quite so soon, but a month later, we learned the sweetest of surprises had followed us home!
At that point, no one could have predicted how 2020 would fall apart so quickly and so devastatingly. We never anticipated giving birth during the biggest pandemic America has seen in years, but we firmly believe in God's plan and that his timing for this little ray of sunshine to enter our lives was nothing short of perfection! Brooklyn's life is 100% a gift.

Our schedules may have completely fallen apart for the year, but as my pregnancy progressed, many things remained the same. I chose to deliver in the same hospital I had given birth to her sister in, and the same hospital both my sister and I had been born in, even though it was an hour and a half from our home in the State College area. I firmly believe that the level of care both my OBGYN practice (Woodward & Associates) and hospital of choice (UPMC Pinnacle) exhibit more than makes up for the inconvenience of the drive!
Brooklyn's pregnancy was thankfully an easy one. Our 20 week ultrasound scan came just before support persons were banned from attending routine appointments, so Nathan was able to accompany me for that visit much like he had Sophia's. It was also the first appointment we had to wear masks for, and the last appointment where someone was able to join me.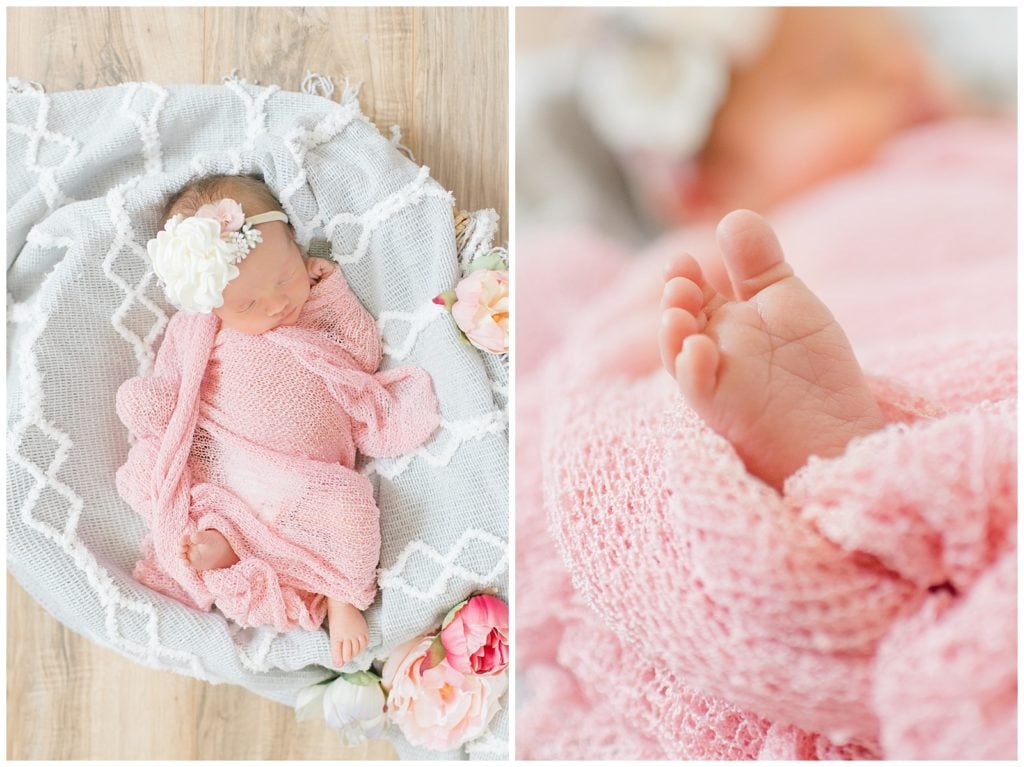 Over the next few weeks my OBGYN switched to covid protocols. During red phase, we were not allowed to sit in chairs in the waiting room. I would walk in wearing my mask, a nurse would immediately come for me and take my temperature, I would be then escorted to a room, and the doctor or midwife would be in shortly. I have nothing but praise for the way Woodward & Associates adapted to the new protocols. I always felt safe during my visits, and the level of care remained as high as it had been during my previous pregnancy. They always took the time to talk with me, address any questions and concerns that I had, and I never felt "rushed" during my visits.
As my July 28th due date approached, I sat down with one of the midwives to discuss UPMC Pinnacle's covid policies so I would have a clear knowledge of what to expect. If I went into labor on my own, we would enter through the front lobby, our temperatures would be taken and the covid questions asked, and we would then be sent to Labor & Delivery through the designated elevator. We would not be tested for covid. The only way we would need to be covid tested was if we were exhibiting symptoms OR if I needed to be scheduled for a c-section. Even if I did test positive, I would not be separated from my baby after her birth, something I was definitely concerned about.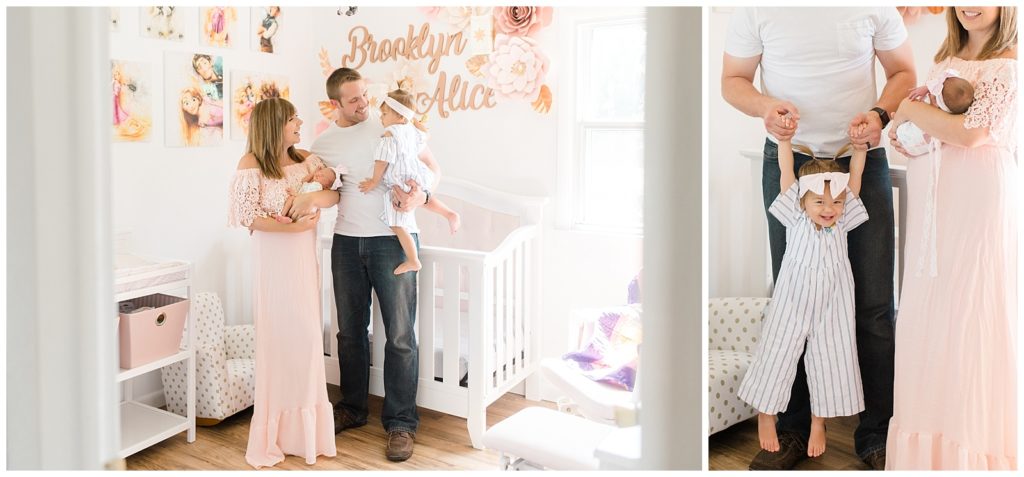 The hardest part about the covid protocols were the visitor policies. I am beyond grateful that UPMC believes in the importance of a support person for delivering mothers. It was harder to accept that I couldn't have my mother and sister present for Brooklyn's birth, and even more so that our sweet Sophia wouldn't be able to visit her sister in the hospital, something I wanted for her in the worst way! I was also secretly concerned about the food as I'm not a huge fan of hospital food, and also wondered what Nathan would eat if he wasn't allowed to leave.
In early July, I had reached the 37 week mark in my pregnancy, and headed in for my standard Wednesday appointment with Sandy, my midwife. The nurse measured my fundal height and expressed some concern to Sandy that Brooklyn's fundal height was measuring small. She had always been about a week behind, but as Sophia had been exactly the same, we didn't think anything of it. Sandy came in to repeat the measurement and voiced her suspicion that Brooklyn may have "dropped" low in my pelvis and that would account for the off measurement. Sure enough, Brooklyn's head was low and completely engaged, which explained the decrease in measurement. I confirmed my 38 week appointment and headed home.


Friday rolled around (37.5 weeks) and it really seemed just like any other day. I wasn't having any contractions, and we did the usual Friday things. I felt a little "off" that day but just attributed it to the heat and the end of pregnancy fatigue. I felt the need to finish packing Sophia's "go bag" as hers was the last needing packed, so that took up most of my morning. Nathan had just started a new job at a non-profit in Williamsport, so this weekend would be the last he planned to work at his temporary job. We usually spent the weekend at my parents when he worked, so I began the task of preparing for the weekend.
After putting Sophia to bed, I headed downstairs to walk on the treadmill before bed. My dog Rylee followed me down and sat next to the treadmill, something that was odd for her since she usually prefers to be on the chair upstairs. She stayed by my side for my entire walk. We headed back upstairs to find Nathan had gone to bed, so I decided to finish packing for the weekend.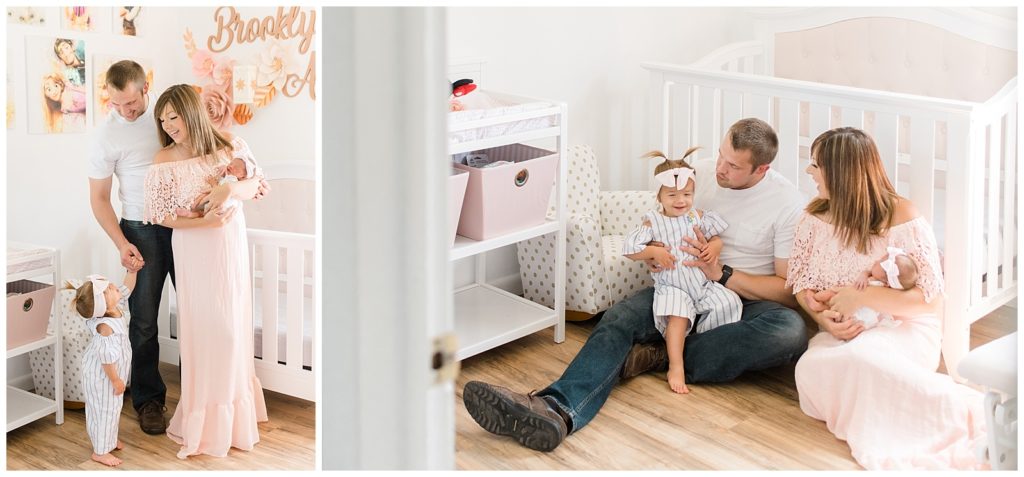 It was then that everything went a little haywire! At around 11:30, I was getting up off the couch when I literally felt Brooklyn's fist punch through her bag of waters with a jolt and a pop. Since her head immediately plugged the hole, there was no movie-style "gush", so at first I was unsure if my water had really broken. I went and sat in the bathtub to avoid making a mess if it was my waters, and called my mom to let her know I thought my water might have broken. Seconds after getting off the phone the contractions started and after moving around a bit, I was able to confirm that my water had indeed broken.
To be honest, having my water break first was the biggest answer to prayer! I was induced with Sophia, and was concerned that if I went into labor naturally, I wouldn't know when to head to the hospital and would end up having her in the car, a valid concern since my induction the first time around lasted four hours which is incredibly short and we had an hour and a half drive to the hospital. I called the "on-call" doctor line for my practice to learn that none of my doctors were on call tonight but Dr. Oaken from Women's First was handling their cases. I wasn't concerned since it was a doctor from Women's First who had delivered Sophia, and the experience had been a good one.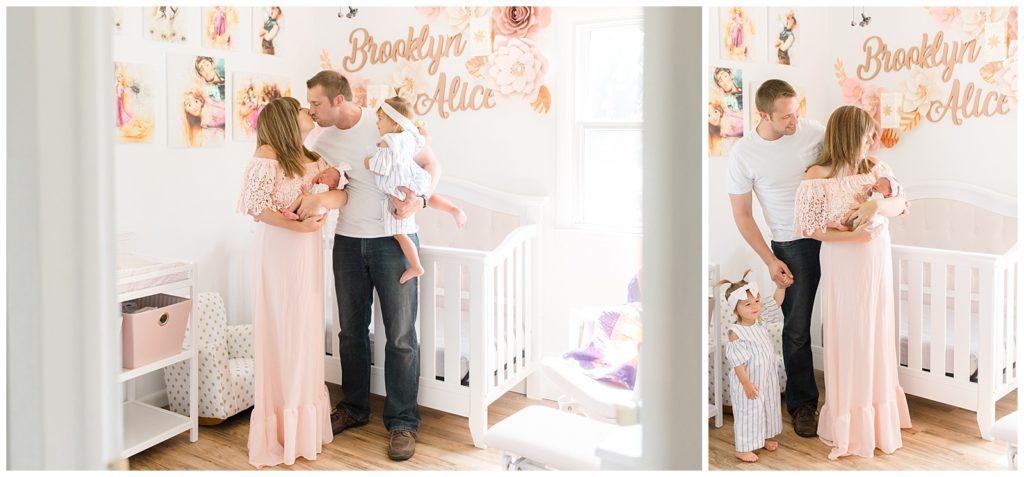 After hearing just how far we had to drive to get to the hospital and how fast my first labor had been, Dr. Oaken suggested that we come right in. I went to wake up my husband and the rush began! While I love my husband dearly, he stresses me out a little in a crisis. As the contractions began to pick up, he actually asked me (mid-contraction mind you!) to email his work and tell them he wouldn't be in! As you can probably imagine, that didn't go over so well! After some mild theatrics and a lot of rushing around, we managed to get Sophia and one of our two dogs into the car and the rush to Harrisburg began.
By the time we reached Lewistown, contractions were consistently five minutes apart and growing stronger. Nathan tried to convince me to stop at the hospital there (again during a contraction!) but I refused and we continued on towards Harrisburg. By the time we reached the Newport area, I realized the contractions were getting closer together and we would NOT have time to stop at my parents' house for the drop off. Instead, they met us at the park and ride near the Dauphin exit. At that point contractions were three minutes apart and PAINFUL. If you've never labored in the car, I don't recommend it! I was trying to labor as quietly as possible since I didn't want to scare sweet Sophia who had been in the back seat prior to her drop-off.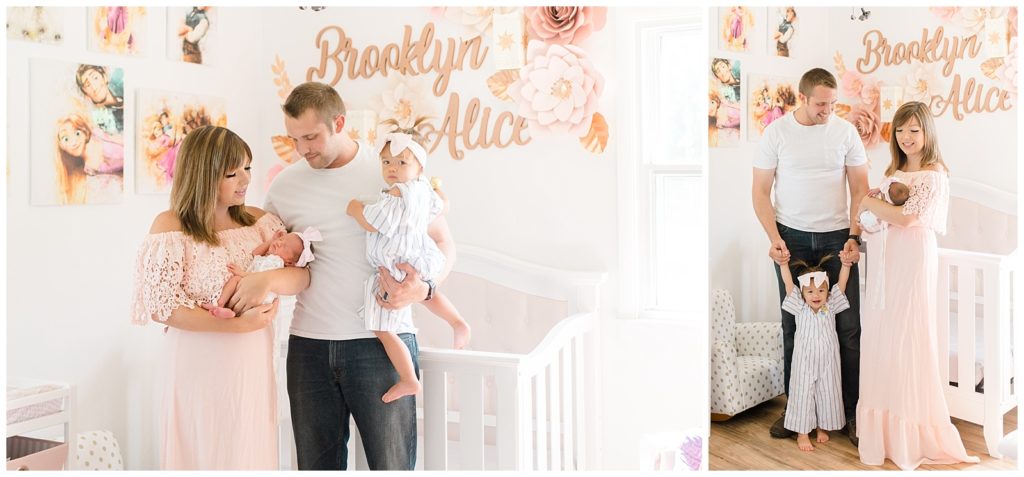 As we got closer to the hospital, I swear we hit every single red light on Front Street. Nathan was really beginning to worry we wouldn't make it in time, but finally the drop off point came into view. We had been told to go in the main lobby, but there was a big sign stating the lobby was closed and we needed to go in through the Emergency Department. The problem was, NEITHER ONE OF US KNEW WHERE THE EMERGENCY DEPARTMENT WAS! Nathan made a quick decision to run past the sign and into the lobby where thankfully he was able to flag down a security guard and grab a wheelchair that in his rush he managed to break the arm off of. Between the two of them they got me in the wheelchair and then into the elevator headed towards Labor and Delivery. Contractions were two minutes apart at this point.
When we got to L&D, the nurse at the front desk could immediately see the pain I was in. She rushed us towards a triage room, asking us the covid questions on the way there. I explained that while I had only been in labor for two and a half hours at that point, I labor quickly and there wasn't much time to wait. She immediately grabbed two other nurses who started my IV and the other intake procedures. One decided to check my cervix rather than wait for the doctor, which was great because they realized I was already at 6 cm. She then rushed me into a labor and delivery room.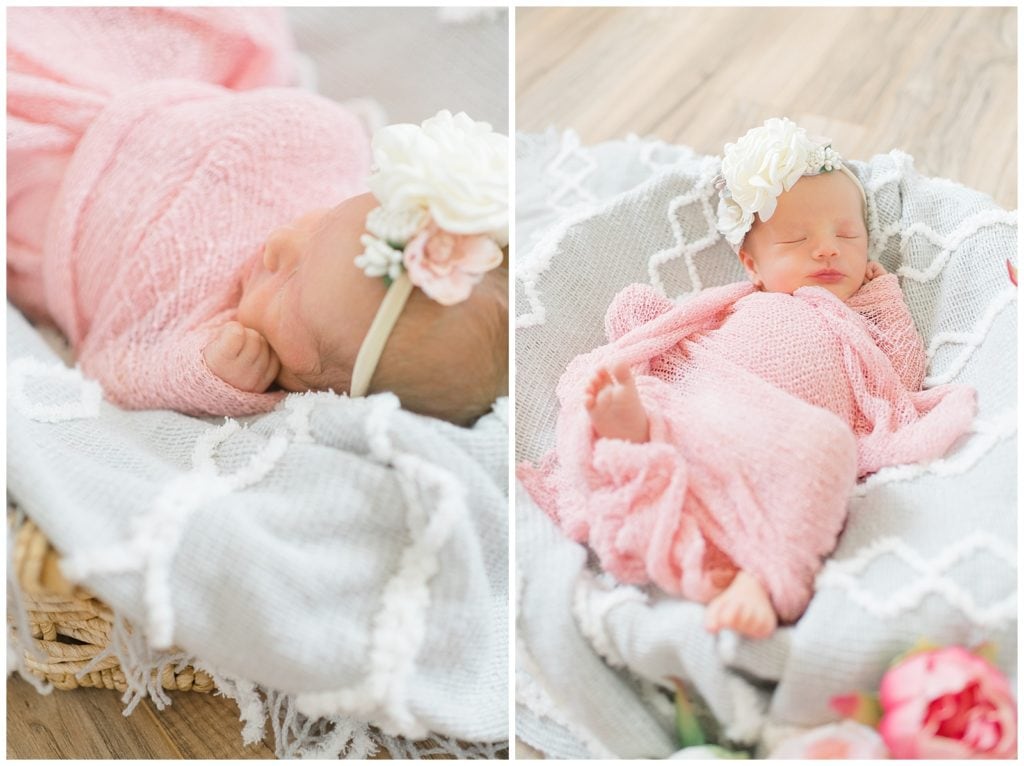 Mid-contraction, she asked me if I had a birth plan, and the only thing on my mind at the moment was "How about that epidural? Can we make that happen now? I don't think we have much time!" She reassured me that they would get it as quickly as possible, and then asked me my preferences regarding cord clamping, skin-to-skin, and the other things I normally would have written down if I had had time to think about it. It hadn't been on my agenda to have a baby that night, but Brooklyn had other plans!
The anesthesiologist got there just in time to place the epidural. I've never minded the feeling of the needle going in. The hardest part is sitting still during the contractions while they place it. Imagine trying to sit still while all seven of the seven dwarfs hammer holes in your pelvis with their tiny picks. That's what contractions felt like to me. Once the epidural was placed, I expected instant relief as the one I had had with Sophia numbed me so much I could feel it in the tips of my lungs. Much to my dismay, this time my right side felt fine while the left still had a large spot in the hip where the seven dwarfs were still hammering away. It's called a window, and it's apparently pretty common.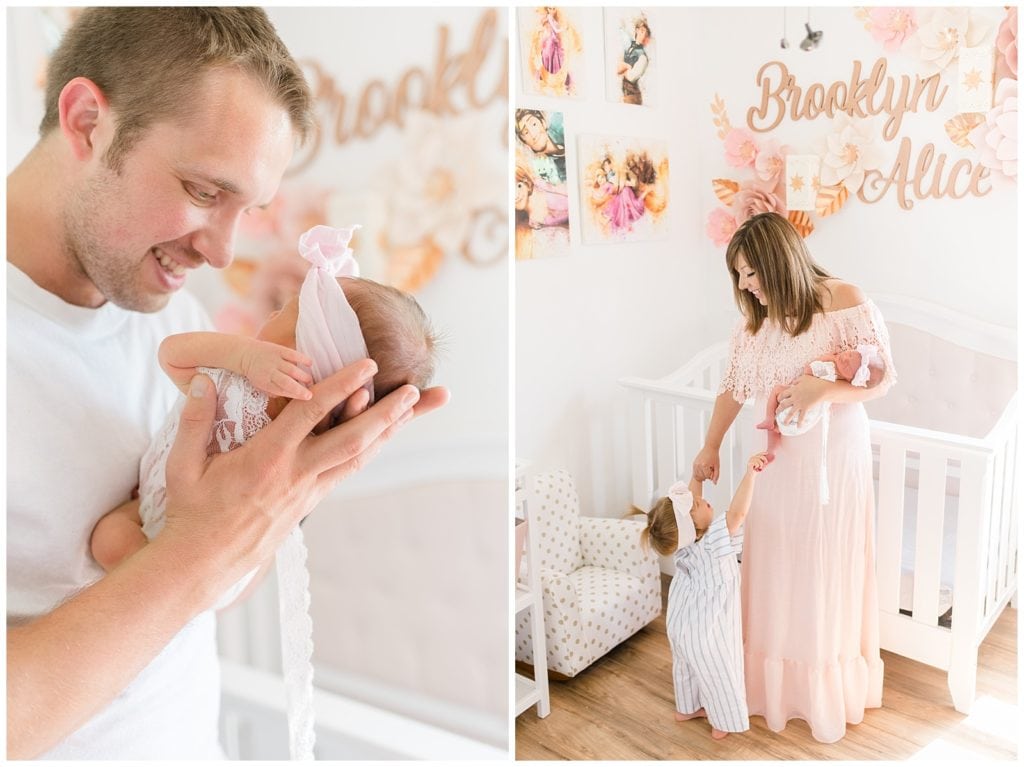 Thankfully, the anesthesiologist was able to tweak the levels of medication and then roll me on my side where the medication finally filled that nasty hole. I asked for the peanut ball between my knees, (If you have an epidural you NEED to request this! It helps keep things rolling along.) and almost immediately, I began to shake. Nathan looked at me and said, "The last time I saw this happen, you were minutes away from having Sophia." He wasn't wrong. Dr. Oaken (who I had never met) came in to check on me at that point, and he realized it was go-time! Two pushes later, my sweet Brooklyn was in my arms, four hours after labor had begun at 3:42 am. Even though she was two and a half weeks early, a tiny 5 lbs 13 oz, and had a knot in her cord (which was also wrapped twice around her neck) she was healthy and she was HERE!
Brooklyn's delivery was absolutely EVERYTHING I could have wanted in a birth story. The room was quiet and peaceful with just two nurses and the doctor present along with Nathan. The lights were low, and Dr. Oaken was incredibly calm and kind. I later learned that he was not just the head of his practice, but he was also the CHIEF of UPMC Pinnacle's Labor & Delivery. Several nurses told me that I was fortunate because "it doesn't get any better than him." My epidural worked like a champ after the hole was filled, it went quickly, and I had no tearing at all, partially due to Dr. Oaken's skill and the fact that Brooklyn's head was on the smaller side. Not tearing has made the BIGGEST difference in my recovery, and the birth itself was truly a zen, tranquil experience. So many prayers were answered, and I'm beyond grateful!

Since the beginning of covid, most uncomplicated vaginal deliveries were being let go from the hospital in 24 hours to minimize exposure. However, since Brooklyn was born at 37 and a half weeks gestation, they chose to keep us for the normal time of two nights. This is maybe the most taxing part on my husband as he gets more than a little stir crazy cooped up in a small (but very comfortable) room for two days! In a funny twist of fate, the same Hallmark Christmas movies were playing on the hospital television as were playing when I had our first daughter in December of 2018. Christmas in July anyone? I'm pretty sure if Nathan has to watch another Christmas movie anytime soon he might lose his mind, but I love them!
Another covid-related difference that we noticed after Brooklyn's birth (besides no visitors!) was that she was taken out of our room for the various newborn tests the hospital runs instead of having everyone come to our room to do them. Sophia never left my side during our stay, while Brooklyn was taken to the "nursery" several times. One of those times was for a chest x-ray which the pediatrician recommended to make sure there was no remaining fluid in her lungs from her fast birth. She was also checked out by the NICU team due to her early arrival.

The NICU team was another factor in our choice to deliver at UPMC Pinnacle. Next to Hershey Medical Center, UPMC Pinnacle has one of the higher level NICU teams in the state, and something I recommend any pregnant mama look into. If there was a problem, it was much less likely that Brooklyn would need to be transferred to another hospital.
Discharge day finally came and we loaded up our tiny peanut into the car and headed off to introduce her to her big sister for the first time! It was love (very overenthusiastic love) at first sight, and Sophia is so sweet to her baby sister, even if she isn't the most gentle at times! I spend most of my day saving Brooklyn's life from her sister's "loving".
Now that we are home and transitioning into a family of four, we can't wait to dive back into serving our couples and celebrating with them on the best day of their lives so far! We are 100% blessed with the life we've had the privilege to create, and we are beyond grateful for all the support we have received along the way! Welcome to the world sweet Brooklyn Alice! We can't wait to see who you become!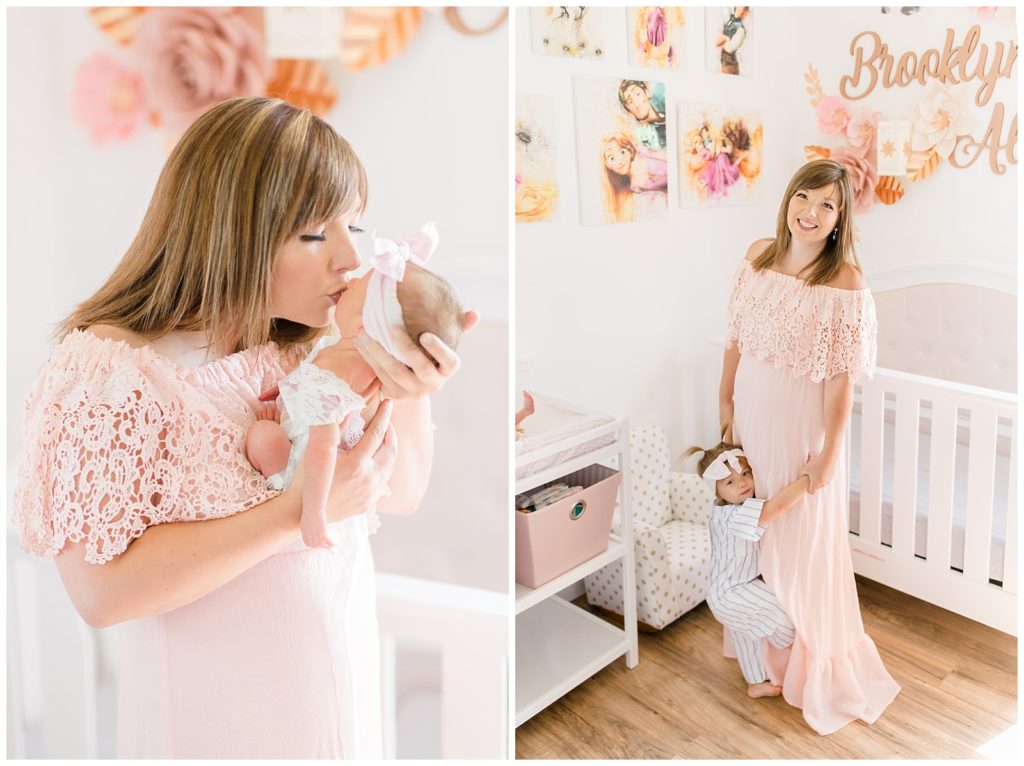 From our readers:
"What did you pack in your hospital bag?"
My husband would tell you I pack wayyyyy too much, but I really did try hard to downsize this time! My "essential" items included:
-Several pairs of comfortable pajamas
-Phone charger
-Flip flops for the shower
-Shampoo and other toiletries
-Make-up bag
-Hairbrush/dryer/straightener
-Pony tail holders
-Camera (obviously!!)
-Laptop
-Robe and newborn outfit from PoshPeanut
-"Going Home" outfit for baby and myself
-Compression leggings from Under Armour
-Hoodie
-Sweatshirt Blanket from The Black Dog
-Halo Sleep Sack Swaddle for baby
-Nursing-friendly bras
-Medela breast pump
-Mam newborn bottles
***ANYTHING that will add to your comfort level postpartum and make you feel more like a functioning human being!***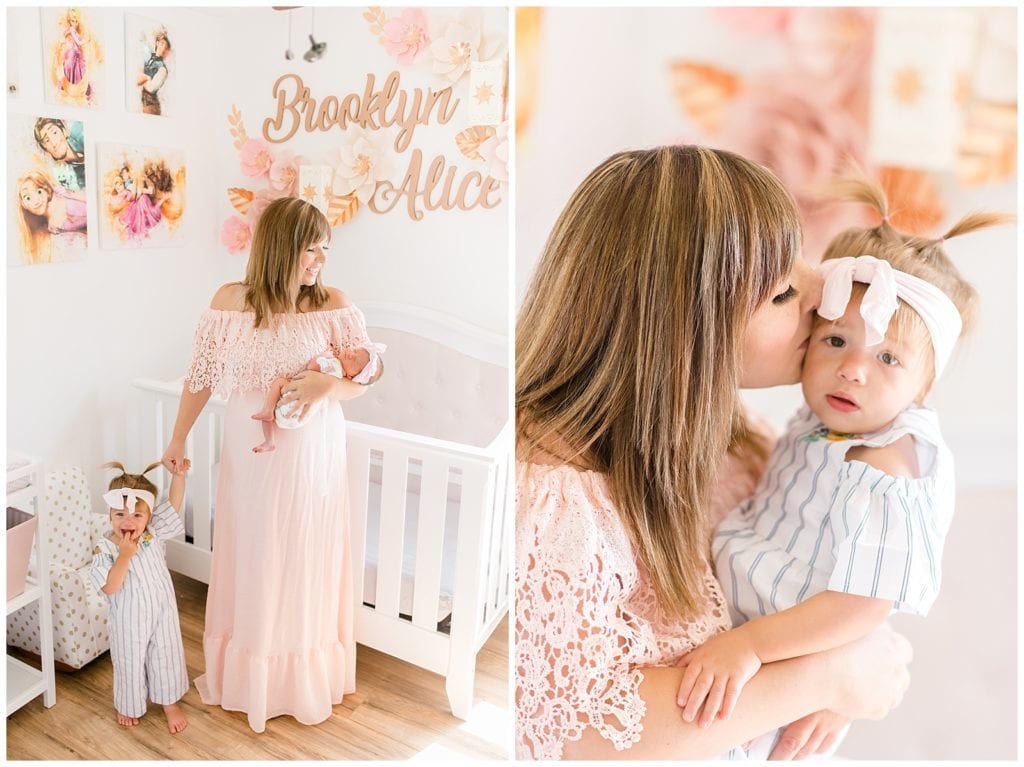 "What can I expect to feel postpartum?"
This is a really great question, and let me preface my answer by saying that everyone's postpartum experience will be completely UNIQUE. If you find yourself struggling in ANY way postpartum, reach out to your doctor or a trusted friend/family member and get help.
For me, this recovery was much easier than my first because I had no tearing with Brooklyn's delivery. I didn't need to use the ice packs, the dermaplast spray, or the witch hazel pads AT ALL. I really feel fantastic and as soon as the epidural wore off completely, I was able to shower and move around unassisted. I joked to my husband on our way out of the hospital that I was "ready to go shoot a wedding now!" But really, I felt THAT good.
With Sophia's birth, I had a first degree tear and had a lot more discomfort. Ice packs and dermaplast spray were LIFE for a few weeks. I also had more discomfort immediately post-birth as the epidural caused some hot/cold flashes that were really uncomfortable that first night or so. The peri bottle was also super helpful for awhile, and I 100% recommend the new FridaMom upside down peri bottle you can find at Target.
The hardest part for me is always adjusting to the lack of sleep and the quickly fluctuating hormones. I'm pretty sure I lie awake the first few nights just listening to my babies breathe, and overanalyzing each and every sound they make. Newborn sleep is NOISY! Also, as someone who chooses to exclusively pump, those nightly pumping sessions are a hard adjustment. I may also have cried watching Princess Diaries…zero shame in my Disney+ game.
During those first few weeks/months, self care is KEY for me! I make sure I find time for a relaxing shower/bath every day even when things are going crazy. Any time I can sneak in a nap, I'm all over it. It's not as easy with a toddler, but thankfully Nathan steps in whenever possible. Also, TAKE TIME FOR TARGET. Seriously. Nathan will stay home with the girls while I run errands (aka wandering around Target), drive through Chick-fil-a, and make sure I'm not missing out on anything at HomeGoods or TJ Maxx usually once a week. I'll also do the grocery shopping during this time if our supply is low. It's a much needed time to take a breath and relax for a bit.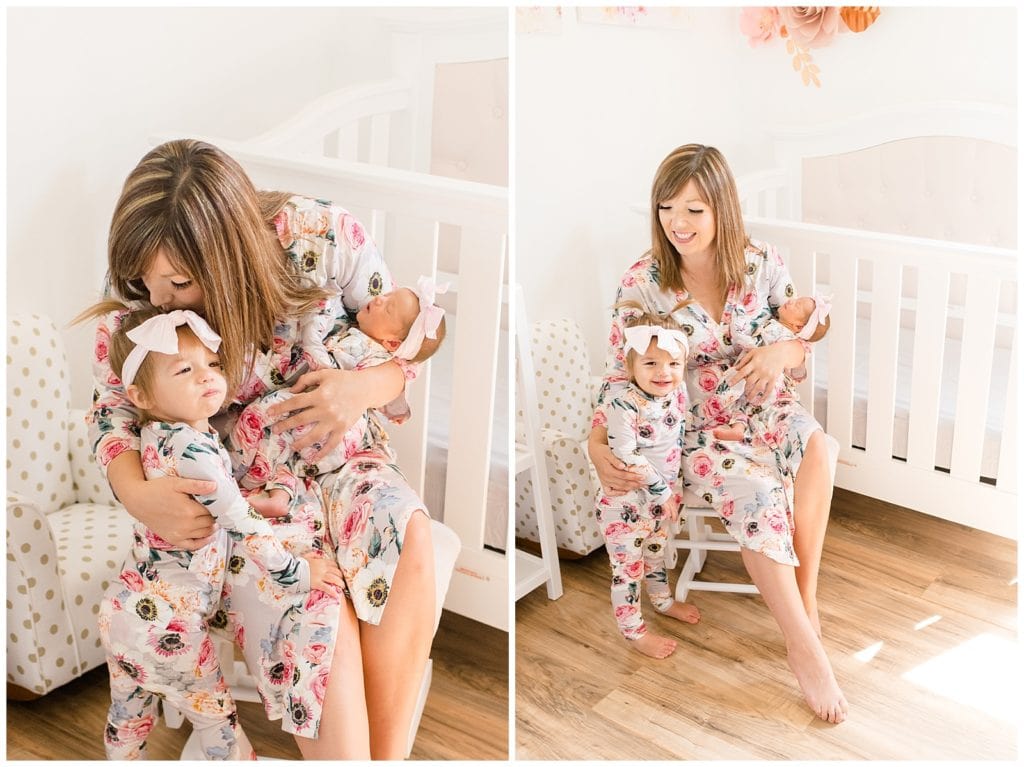 "What's the biggest piece of advice you would give someone who just had a baby?"
Give yourself a TON of grace. Your body just did something absolutely incredible, and it's not going to bounce back overnight.
Remember that parenting is a journey not a competition. Stand firm in the choices that you make, and find wise counsel to seek out advice when you need it. What works today may not work tomorrow and that's ok. Be flexible.
Take a moment every day to soak in all the newborn cuddles, even if it means the laundry goes undone or the house isn't as clean as you'd like it to be. You can't spoil a baby, and they're only little once.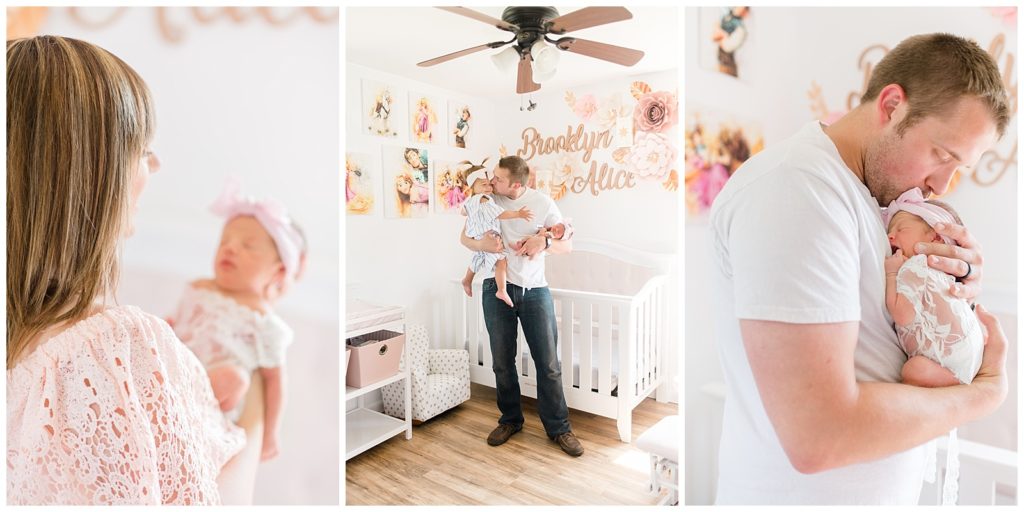 "Are there any books you recommend?"
Happiest Baby on the Block by Dr. Harvey Karp
On Becoming Baby Wise by Gary Ezzo and Robert Bucknam
What to Expect When You're Expecting by Heidi Murkhoff and Sharon Mazel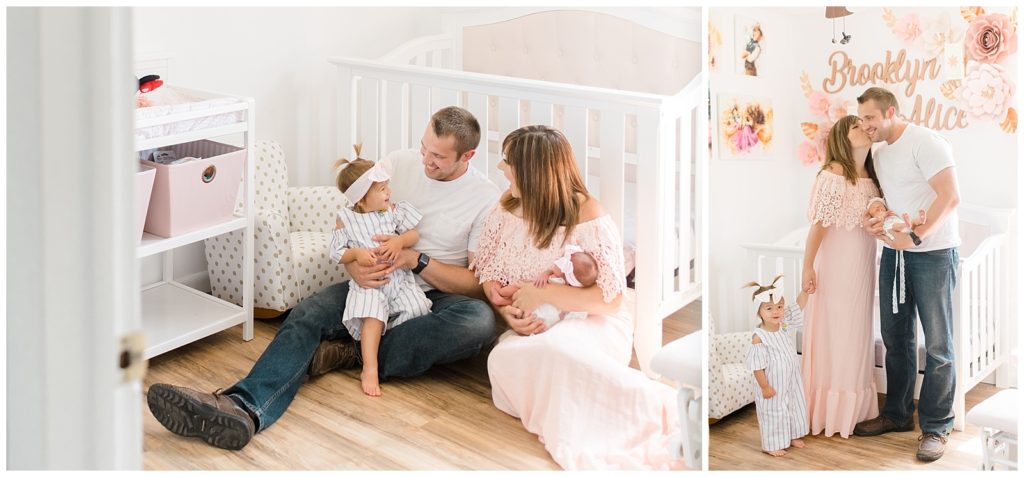 "What are your must-have baby items?"
–Willow portable breast pump for on the go
–Medela Freestyle Flex pump for at home
–Babyletto Origami Mini Crib
–Moonlight Slumber Little Dreamer Crib & Mini Crib mattress
–Mam slow-flow bottles and pacifiers
–Dock-A-Tot (for supervised use only)
–Boppy Comfy-fit Baby Carrier
–Halo SleepSack Swaddles
–MyBaby SoundSpa
–NoseFrida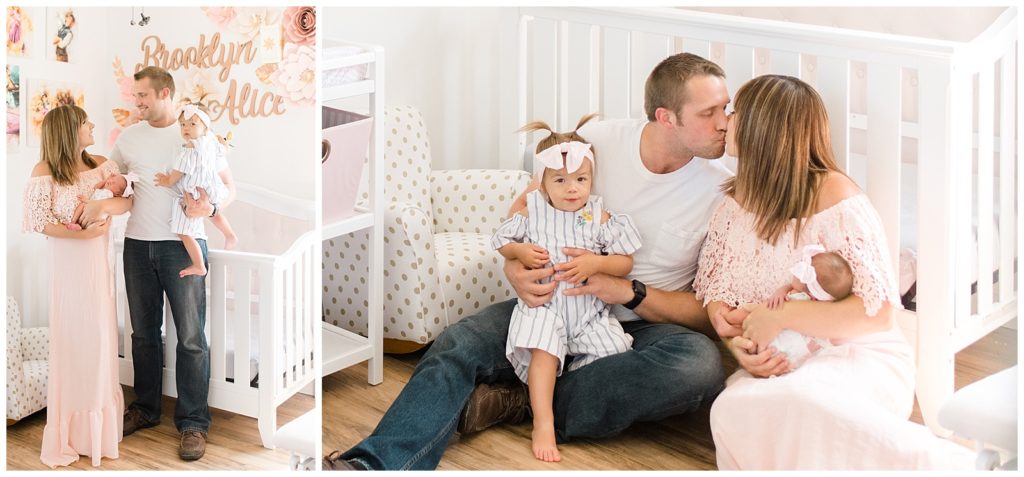 "How do you come up with the concepts for your babies' rooms?"
Designing the nursery is one of my FAVORITE parts of preparing for a newborn. You may notice that the underlying theme is always somehow Disney related. Sophia's is Magic Kingdom themed while we chose the movie Tangled for Brooklyn. The Tangled idea was one we stumbled on by accident. Nathan and I really enjoy the Thomas Kinkade Disney artwork, and we were toying with finding one that could be printed big enough for a mural to fit on Brooklyn's wall. After looking through a bunch of the options, we both felt the lantern scene from the movie Tangled would be a perfect fit for the baby we'd been calling a "ray of sunshine".
Once we had the idea for the mural, the hunt for Rapunzel themed decor began! I used a TON of different Etsy shops to decorate her room. We had canvases made of several of the main characters, bought replicas of the lanterns to hang on the wall, hand-painted the wooden letters for her name, and picked out a small garden's worth of paper flowers to hang on her wall. We also had a custom Tangled quilt made for her that sits on her rocking chair in the corner. There is a sign from "The Snuggly Duckling" on one wall, and of course, her giant Tangled mural which you can't see in these photos unfortunately.
A lot of the more generic pieces in her room came from HomeGoods including the tiny polka dot rocker next to the crib. We ordered the crib furniture online, and Nathan and I spent many a long evening putting several thousand pieces together to form her dresser, crib, glider, and changing table! It's safe to say we are now experts at using an Allen wrench and have perfected the art of furniture assembly without killing each other in the process!